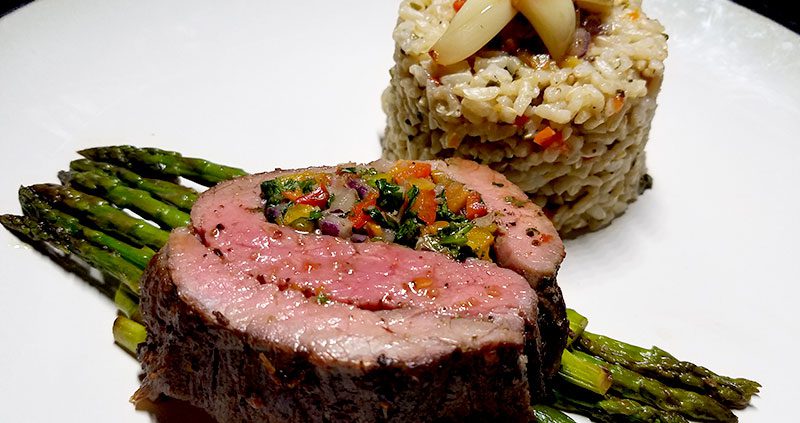 Cast Iron Seared, Baked and Broiled (Sazon Seasoned) flank steak roll
Cast iron seared and baked (Sazon Seasoned) flank steak roll, filled with red and orange bell peppers, red onions, cilantro and jalapeño pepper jack. Side of organic brown rice with homemade sofrito, baked garlic and asparagus cooked in the remaining steak juices.
Ingredients
Thick flank steak (approx. 1.5 2 inch thick)
Sazon Completo seasoning (This stuff is awesome for everything)
1 Red Bell Pepper
1 Orange Bell Pepper
1 Red Onion
Bunch of fresh cilantro
I head garlic
I bunch asparagus
Olive Oil
Boars head jalapeno pepper jack cheese
1/2 stick non Salted butter (I prefer Irish butter for almost all of my cooking)
Instructions
Prepare the flank steak

Leave flank steak out of fridge for approx. 30 minutes -1hour to get to room temperature
Butterfly Flank steak
Depending on thickness you may need to pound steak to increase surface area
Prep Veggies

"Sofrito"

Dice 3/4 of each bell pepper
Dice entire red onion
Chop full bunch of cilantro

Combine all veggies into large mixing bowl

Add 2 tablespoons of olive oil
Add Sazon to taste

Separate approx. a ¼ cup of the "Sofrito" for the rice
 Asparagus

Cut ends and leave aside

Garlic

Cut bottom of garlic off, the idea is you want to allow the garlic to cook in cast iron pan while you baste the steak in the oven.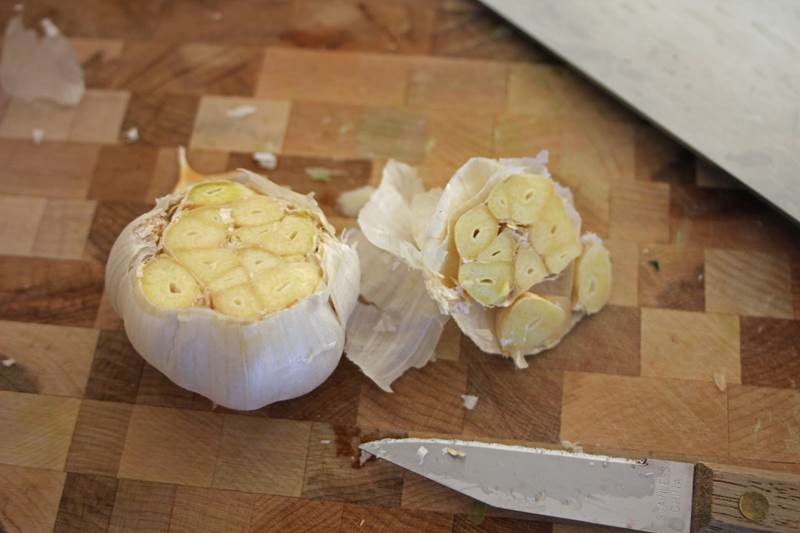 Start brown rice (Usually takes about 30 Minutes. Should be ready by the time the steak is done and rested)

1 Cup rice
2 ¼ cups of water
¼ cup of "Sofrito"
1 Tablespoon of olive oil
Prep steak

Drizzle olive oil onto baking sheet (Shown below)
Lay butterflied steak onto pan
Lightly oil top of steak (Bottom will be oiled from the pan)
Rub in oil thoroughly
Apply Sazon onto both sides (Instructions continued below next image)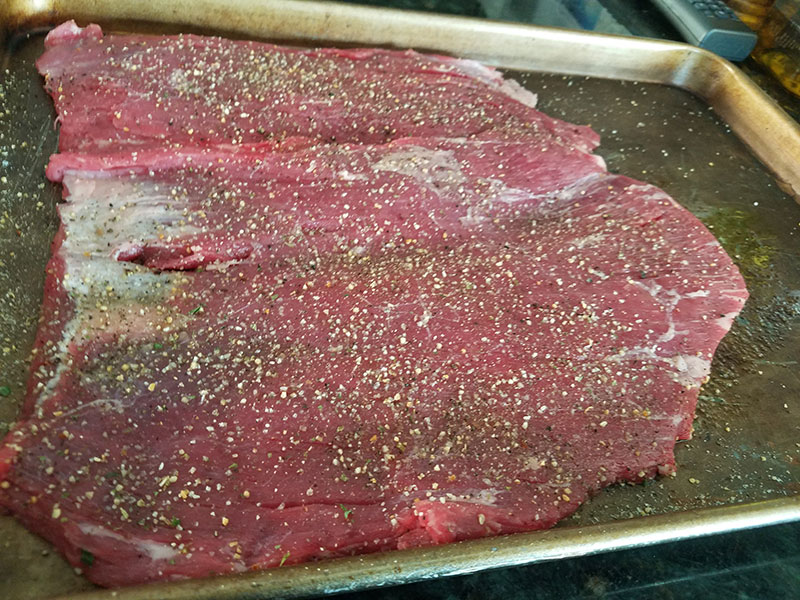 Shred jalapeno pepper jack cheese onto steak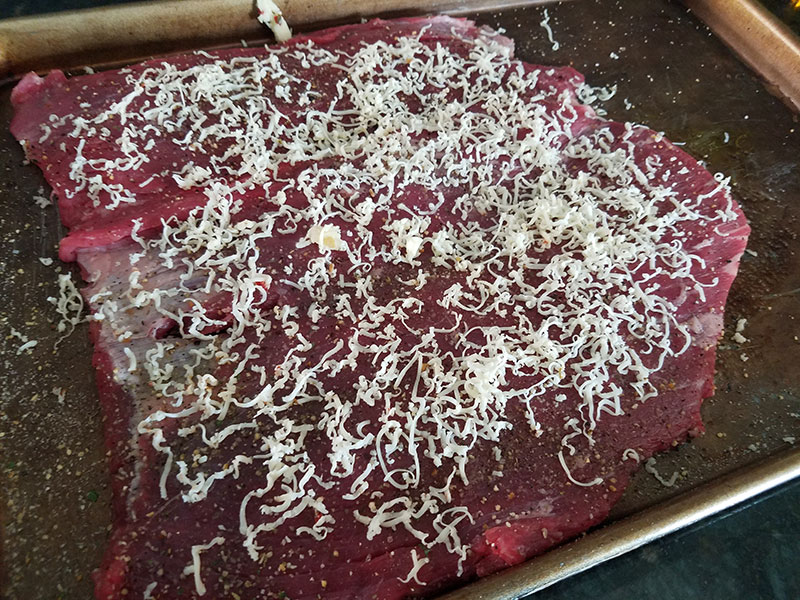 Add the rest of the "Sofrito" mix into the steak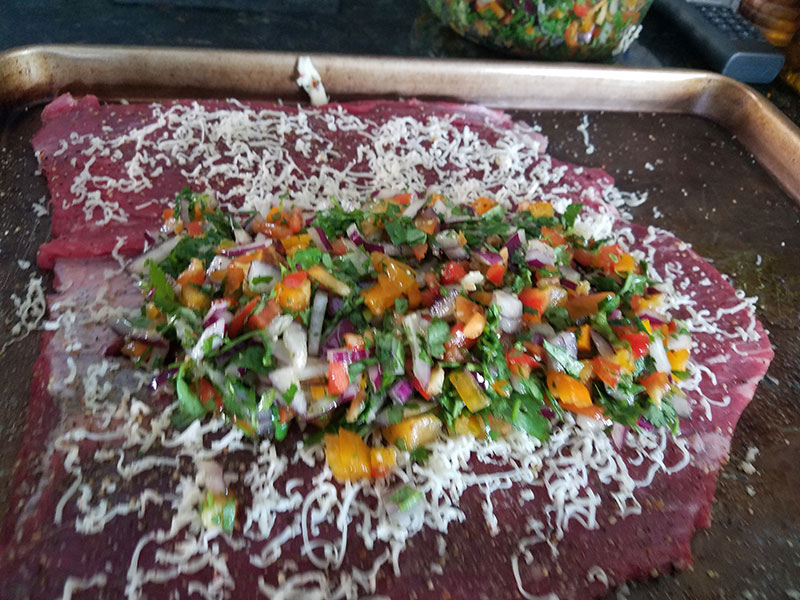 Roll it from one side to the other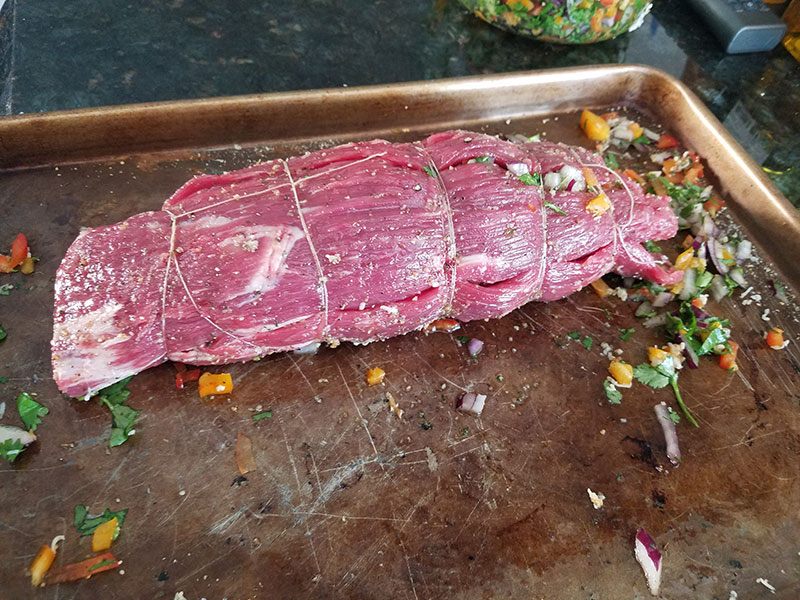 Use cooking string and tie it up. I try to make the side a bit tighter to keep everything from oozing out
Time to cook it

Set oven to 350 degrees
Place a cast iron skillet on the stove on high
Lightly oil skillet (You should already have a good amount on the steak from rolling it)
Place garlic head into pan
Once pan starts smoking add the rolled flank.

Sear it one all sides. (I usually let it sit on all sides for about a minute each. Approx.  4-5 Minutes total)

Place pan into oven and drop in the butter

Set time for 15 minutes
Baste steak with pan / Garlic butter every 5 minutes
After timer sounds check doneness (I like my steak rare, and it it's a nice cut from a good butcher like Doris it should be pretty tender. You are going to broil it for another 5 minutes so it will cook just a little more)

Switch over to broil and hit it for 5 minutes

Turn off Broiler / Oven

Remove pan from oven and immediately remove steak from pan to rest
Remove garlic
Drop your asparagus into the pan. It should be so hot from the oven it won't require the oven to be turned on. (The idea is to let it cook in the steak juices and garlic butter. I left mine in the oven for about 5 minutes . But I like by asparagus pretty andante)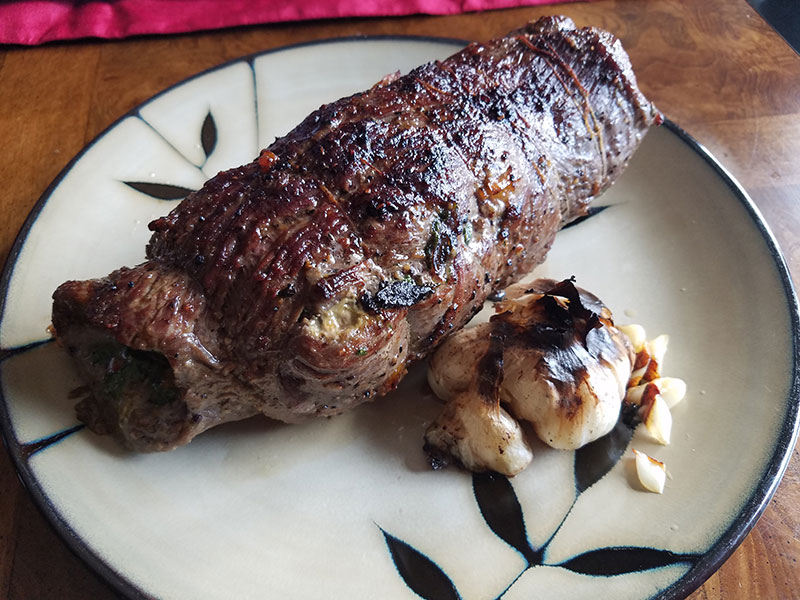 Slice it and plate. The juices from the steak and the butter will be absolutely incredible. I  drizzle it over the steak and asparagus when done…..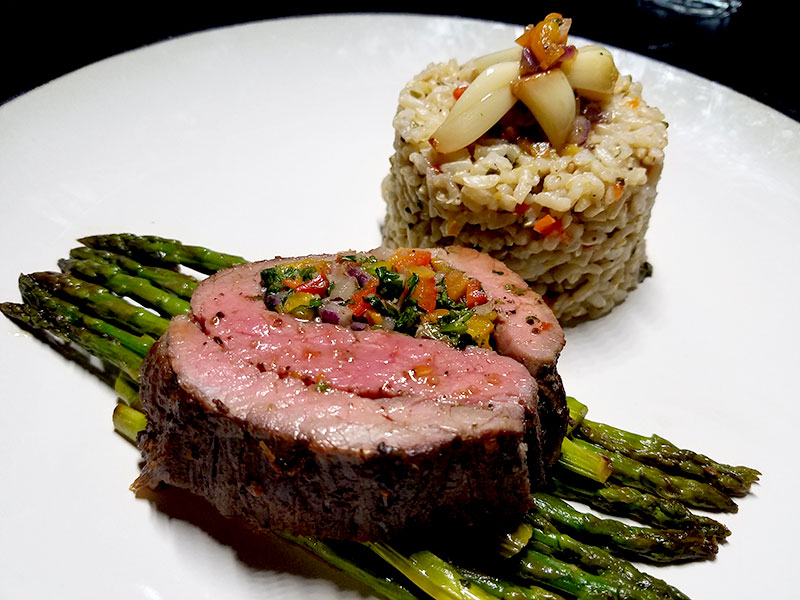 https://brucequiroz.com/wp-content/uploads/2016/12/20161203_183155.jpg
600
800
elementalone
https://brucequiroz.com/wp-content/uploads/2014/10/Logo-300x300.png
elementalone
2016-12-14 04:19:00
2016-12-14 04:19:00
Cast Iron Seared, Baked and Broiled (Sazon Seasoned) flank steak roll