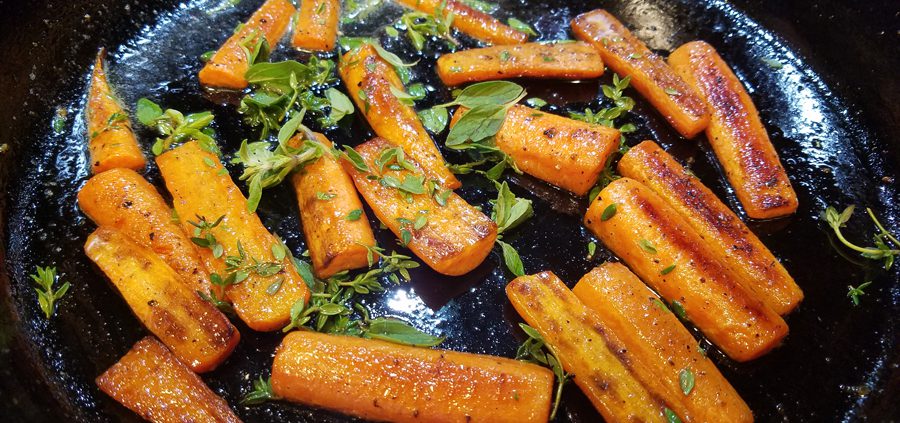 Roasted Carrots with Parsley, Oregano and Thyme
INGREDIENTS
1 pounds carrots, peeled quartered or cut into sixths lengthwise depending on the size, then into 2-inch lengths
2 tablespoons extra virgin olive oil
Salt
freshly ground pepper
3 teaspoon fresh thyme leaves, chopped
1 teaspoon oregano
2 tablespoons finely chopped flat-leaf parsley
PREPARATION
Preheat the oven to 400 degrees. Oil a cast iron large enough to fit all of the carrots in a single layer.
Place the carrots in a large bowl, and toss with the olive oil, salt, pepper.
Add the thyme and oregano a few minutes before you remove from oven. The idea if for them to be fresh and not overcooked but enough heat to release the fragrances of the her b.
Spread in an even layer in the prepared pan. Place on the stove on medium high (LOL) you want to slightly singe the carrots for about 5-8 minutes
Then place the pan into the oven for 10 minutes.
3 Minutes before you take them out add the parsley, thyme and oregano and stir gently adjust salt and pepper accordingly.
Serve hot, warm or at room temperature.
https://brucequiroz.com/wp-content/uploads/2016/12/20161216_232648.jpg
675
900
elementalone
https://brucequiroz.com/wp-content/uploads/2014/10/Logo-300x300.png
elementalone
2016-12-23 15:30:29
2016-12-23 15:30:29
Roasted Carrots with Parsley, Oregano and Thyme